on

May 16, 2017

Sara shares how she draws on her life's tasty soup of experience to write romance today in this fun The Romance Dish post  http://bit.ly/2p9sW9a.
on

April 11, 2017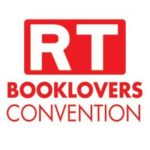 Meg, writing as Sara Flynn, will co-emcee the RT Booklovers' Convention Awards Ceremony in Atlanta in May and sign SOLACE ISLAND at the Convention's Giant Book Fair. Details here.
on

April 11, 2017

The reviews for SOLACE ISLAND are beginning to roll in, and they're wonderful!
"Sara Flynn's SOLACE ISLAND is a high-energy page-turner that delivers a feisty heroine, a sexy hero, a lot of warm-hearted romantic-comedy and some very chilling suspense — all done with a fresh, modern edge."

—

New York Times bestselling author, Jayne Ann Krentz

"This fetching debut from Flynn (pseudonym for actress/author Meg Tilly; Gemma) sets up a satisfying romance in a cozy, small-town setting. The sex scenes sizzle, and an unexpected suspect raises the tension." —Library Journal, starred review