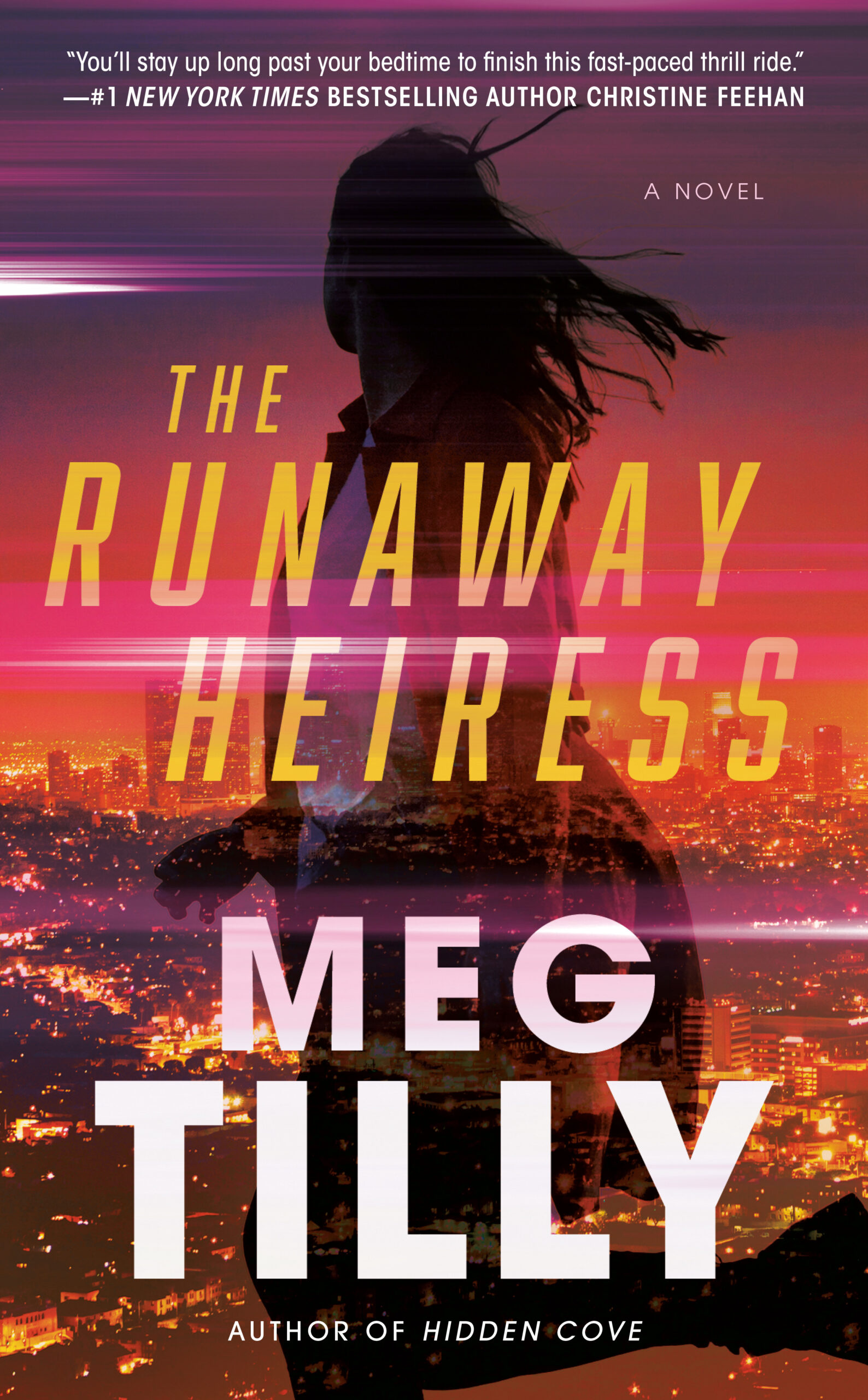 The Runaway Heiress
A brave woman on the run from her vindictive husband faces a dangerous path in the thrilling new romantic suspense novel from Oscar-nominated actress Meg Tilly.
Sarah Rainsford has been on the run for more than three years. She's changed identities yet again in hopes of throwing her violent estranged husband, a police lieutenant, off her trail. Since she's still legally married to him, and he is willing to bend any laws to get his hands on her inheritance, Sarah is worth far more to him dead than alive.
With a new name and fake ID papers, she lands a job as a personal assistant to none other than Hollywood's golden boy director Mick Talford. He's a difficult client but she senses hidden depths to him. Once Mick and Sarah combine forces in a desperate attempt to keep Sarah out of harm's way, they build a strong bond . . . but with danger trailing them, is it enough to keep them both alive?
Reviews
"Tilly makes it easy to root for these strong, focused characters, neither of whom has ever been in love before, adding an endearing, first love twist to their romance. The well-developed protagonists and intriguing suspense plot are sure to keep the pages turning."—Publishers Weekly
"Meg Tilly writes a perfect blend of scary and sweet romantic suspense novels, and though The Runaway Heiress sounds like a historical, it's actually a bone-chilling story about a woman who goes on the run from a violent cop—her husband—and gets a job as the assistant to a bad-boy movie director. As a Golden Globe winner herself, Tilly knows Hollywood, and her authenticity makes the danger more bloodcurdlingly effective."—Eloisa James, 10 Excellent New Romance Books, BookBub
"Meg Tilly's writing masterfully captures all the giddy feelings of falling in love! Danger lurks around every corner in THE RUNAWAY HEIRESS and you'll stay up long past your bedtime to finish this fast-paced thrill ride where a couple runs up against the dark side of human nature and an enemy who will stop at nothing to get what he wants."—#1 New York Times bestselling author Christine Feehan
"I recommend clearing your schedule before beginning The Runaway Heiress. Once I started, there was nothing that was going to pull me away from this book until I reached the final page. Meg Tilly lured me in with fully-formed, vividly-depicted characters in whom I quickly became invested. Then she threw them into a fast-paced, increasingly escalating, life-or-death journey that engaged all of my emotions. Finally, she wrapped it all up in a tightly-constructed plot, with numerous unexpected twists, that had me on the edge of my seat, trying to guess what would happen next, until the very end. What a ride! . . . While the compelling, suspense portion of the book kept me on edge, it's nicely balanced by what turns out to be a very sweet romance, with plenty of sizzling chemistry, snappy banter, and emotional vulnerability." —The Romance Dish 5-Star Review
"Ms. Tilly once again gives readers another well-crafted story that will keep you turning pages to see what happens next. I'm quite impressed with her writing talent, transitioning from actress to novelist seemingly effortlessly."—The Good, Bad and Unread
"The Runaway Heiress was a fun, enjoyable and captivating read, as well as having a great couple, excellent secondary characters, with a sweet romance and mystery thriller.   Meg Tilly once again gives us another great romance suspense to enjoy. I wholly recommend you read The Runaway Heiress."— The Reading Café
"If you like suspense novels that totally encapsulate the genre as well as draw you in to a "can't put it down" read (to heck with dinner or sleep) – then The Runaway Heiress by Meg Tilly should be on your TBR pile! If you like romance novels with enthralling main characters with some grit – then The Runaway Heiress should be on your TBR pile!  Better yet – just get it and start reading …"  —Open Books Society
"The Runaway Heiress captivated my attention from the first glimpse of the cover, and held me tight in its grip from the first page until the flip of the last. There's nothing more I love than a thriller that completely enthralls me due to the intrigue and twists and turns throughout the story. Add in some romance with that suspense and voila! You have the perfect thriller to keep you reading in one sitting because the anticipation and anxiety has you on the edge of your seat, dying to know what's going to happen next." —A Court of Autumn and Book Reviews