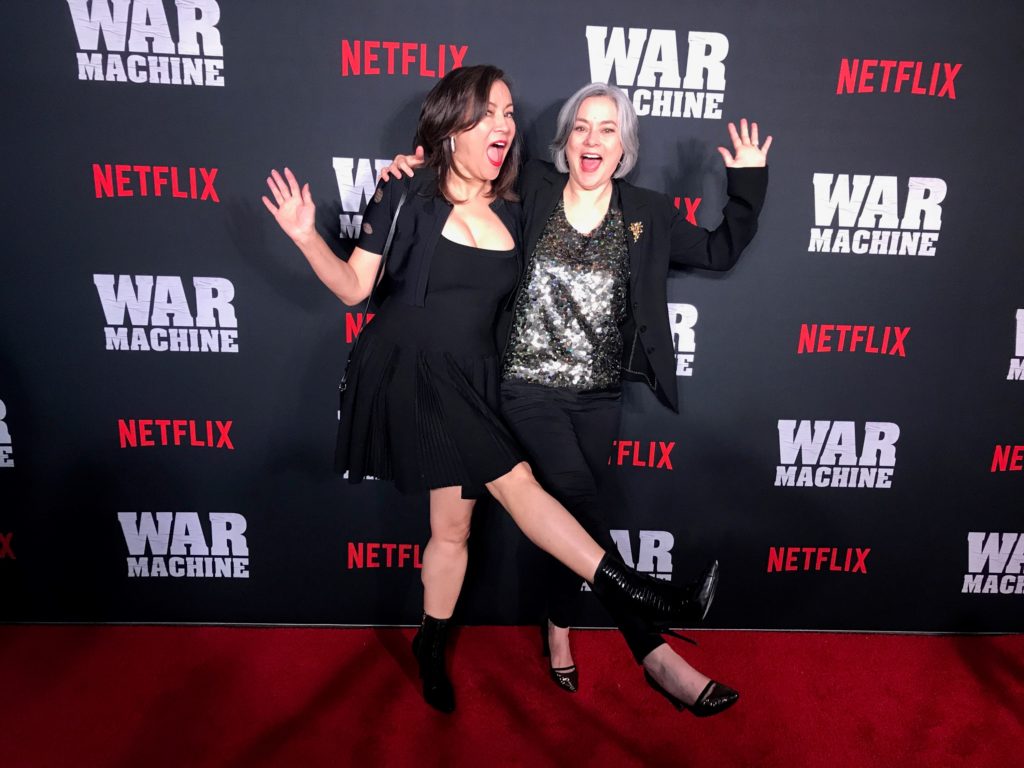 On May 12 Don and I took the ferry to Victoria. I visited my mom, and Don and I had a cozy dinner, topping the evening with a brisk game of Dutch Blitz.
Don left at the crack of dawn the next morning for Toronto. He had once again been nominated for the White Pine, Forest of Reading Award. This go-around was for his newest YA novel, Dan vs Nature.
Then he was traveling on to Rochester, New York for another book festival he had been invited to.
I had planned to go with Don and join the ranks of his enthusiastic fans. But then I received an invitation from Netflix to attend the "War Machine" screening in New York.
Well, what would you choose?
When my husband leaves town, I eat total junk. After Don left for the airport, I wrote for a few hours, fueled by fistfuls of candy. I struggled for several hours in front of my computer, trying to get words on the page without much success. I decided to change course. Do something useful, pack my suitcase, while waiting for the words to come.
I was going to be in New York May 15-19. Normally my clothes for that length of trip wouldn't even fill a small carry-on bag. But I was going to be staying with my sister, Jennifer, in her apartment in Chelsea.  Two weeks ago, during her last visit here, Jennifer had gone through the hassle of putting together outfits for me. It meant a lot to me, and I wanted to bring a bunch of them to New York.
I put everything in my suitcase but the kitchen sink. No surprise—it wouldn't shut!
I had popcorn and a chunk of cheddar for dinner and went to sleep.
The next morning I looked at my overstuffed suitcase. I could either dump it all into an even bigger suitcase, or I could cull.
I culled.
Did I really need to pack the four different ensembles for the "War Machine" screening that Jennifer had helped me assemble?
I did not.
Two would suffice.
But how to choose which outfits would stay in my suitcase and which wouldn't make the cut?
Easy-peasy!  There were two glamorous cocktail dresses, which my sister said absolutely had to be worn with the sexy, velvet high heels with dainty straps that crisscrossed around the ankle and buckled on the side.
Granted, the shoes—a gift from Jen—were pretty amazing looking.
I strapped them on and hobbled to the mirror to see how the ensemble looked. Meanwhile, the balls of my feet were screaming for mercy. I knew I would never be able to get through an evening wearing them.
I figured if two outfits had to go, they might as well be the ones that required the precarious and painful shoes. So out went the two cocktail dresses, the velvet shoes and the accessories that went with them.
Then I ate some chocolate covered Bing cherries and felt immensely better.
I made myself some tea and wrote for a few hours, then returned to my bedroom to cut the remaining clothes in my suitcase by half.
I only had a few things scheduled: the "War Machine" screening and after party, a spot on a TV show, a dinner with the one-and-only Eloisa James regency-romance-writing goddess.  So, practically speaking, all I needed was a grand total of three nice outfits. I threw in a couple extra in case of spillage, and a few comfy outfits for cozy sister time with Jen.
Once my suitcase was loaded, I laid out my clothes for the next morning, had dinner, washed my face, brushed my teeth and went to bed. Even though I was tired, sleep eluded me. I was too excited about my adventure to come …
… to be continued