on

May 16, 2017

Sara loved writing this post for the great romance reader site, Heroes & Heartbreakers, on what she likes about acting—AND writing romance!
on

May 16, 2017

Sara shares how she draws on her life's tasty soup of experience to write romance today in this fun The Romance Dish post  http://bit.ly/2p9sW9a.
on

April 11, 2017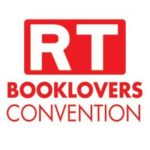 Meg, writing as Sara Flynn, will co-emcee the RT Booklovers' Convention Awards Ceremony in Atlanta in May and sign SOLACE ISLAND at the Convention's Giant Book Fair. Details here.